When most people think about the Yucatan their mind brings them to the crystal-clear waters of the Caribbean, resort style vacationing, and hangovers that can only be shed by drinking more beers at one of the seven pools or three hot tubs.  Well, we're not gonna lie, that's basically what the Yucatan was for us as well…just extended.
We first dipped into the Yucatan after a long days drive from Palenque to Campeche. Campeche is a City on the Gulf of Mexico and there is either some serious drug trafficking going on here or they have a well-established oil and gas market. As soon as we strolled into town we wandered through a neighborhood that looked like it belonged in San Francisco or South Florida. Million dollar house, after million dollar house, with their own beach front property. Pretty impressive considering we hadn't seen ANYTHING like this in all of Mexico. We clearly felt out of place! We had a good conversation with some locals and wound up finding a hotel that better fit our needs (aka cheap with 2 beds). As soon as we got settled, Justin immediately went for a stroll to see if he could find a solution to his pesky oil leak which continued to piss oil all over the asphalt. Finding a motorcycle shop within two blocks Justin abruptly said to the worker, "Tengo una fuga de aceite". Within minutes he had diagnosed the problem and Justin and the worker sped off to buy a new o-ring for the starter for a whopping $.25. It was a quick fix that has since left La Tortuga clean and dry. Even better it only cost Justin two beers, one of which the guy slammed in the OXXO, and a coke.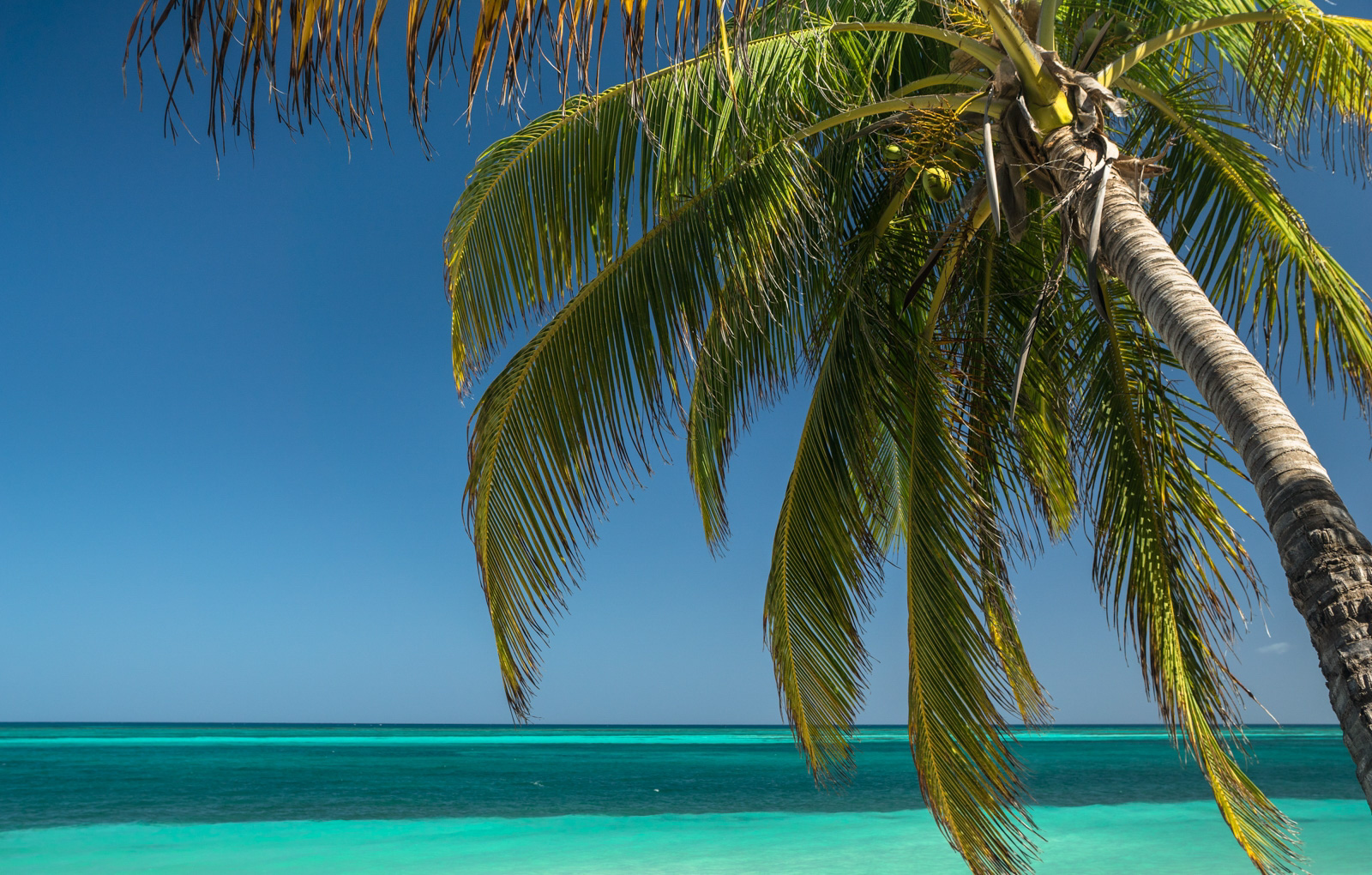 Waking up in the morning, we had a decision to make…find the Germans in Merida or bomb to Cancun to get some of that "Resort Lyfe", and hang out with our long lost friends Gabe y Autumn….after 14 seconds of debate the decision was more clear than a glass of Vodka – Cancun here we come!! The drive from Campeche to Cancun couldn't have been more boring…straight, flat, hot, and full of those obnoxious topes. The Mexican brake and suspension market must be cashing in pretty well. However, arriving at the Resort definitely made up for it! Autumn was gracious enough to welcome us all into one of the nicest places any of us had ever stayed. Each morning we would wake, go to the Walmart for supplies, and spend the rest of the day cooking our meals, peeing in the spa(s) and having conversations with the Americans (and their Swank Fedoras) down for Holiday.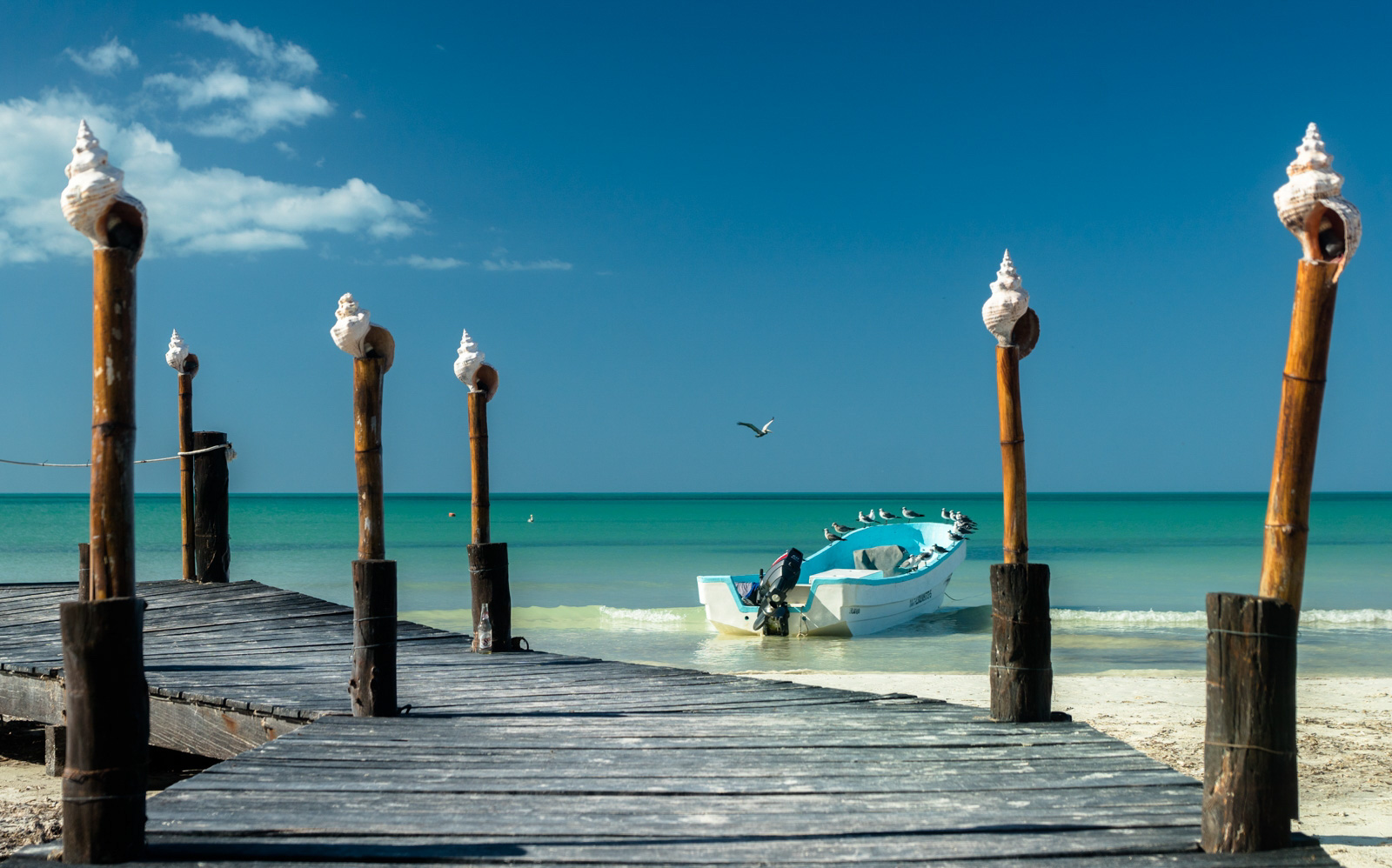 Next stop, Isla Holbox! We had been hearing about this place since we landed in the country so we had to check it out. Ditching our bikes on the mainland in a parking lot, we high tailed across the Caribbean arriving to white sand beaches. We rented a great AirBnB on the island for a week and were joined by Gabe, Autumn, Antonia, Kathi, and Eva…talk about the simple life. The island is 6 blocks by 6 blocks (more or less) of dirt road and the only vehicles on the streets are golf carts and small motorbikes. The simplicity meant we could roll a quarter to anything we wanted, including a beautiful beach that had some of the bluest water we had seen to date.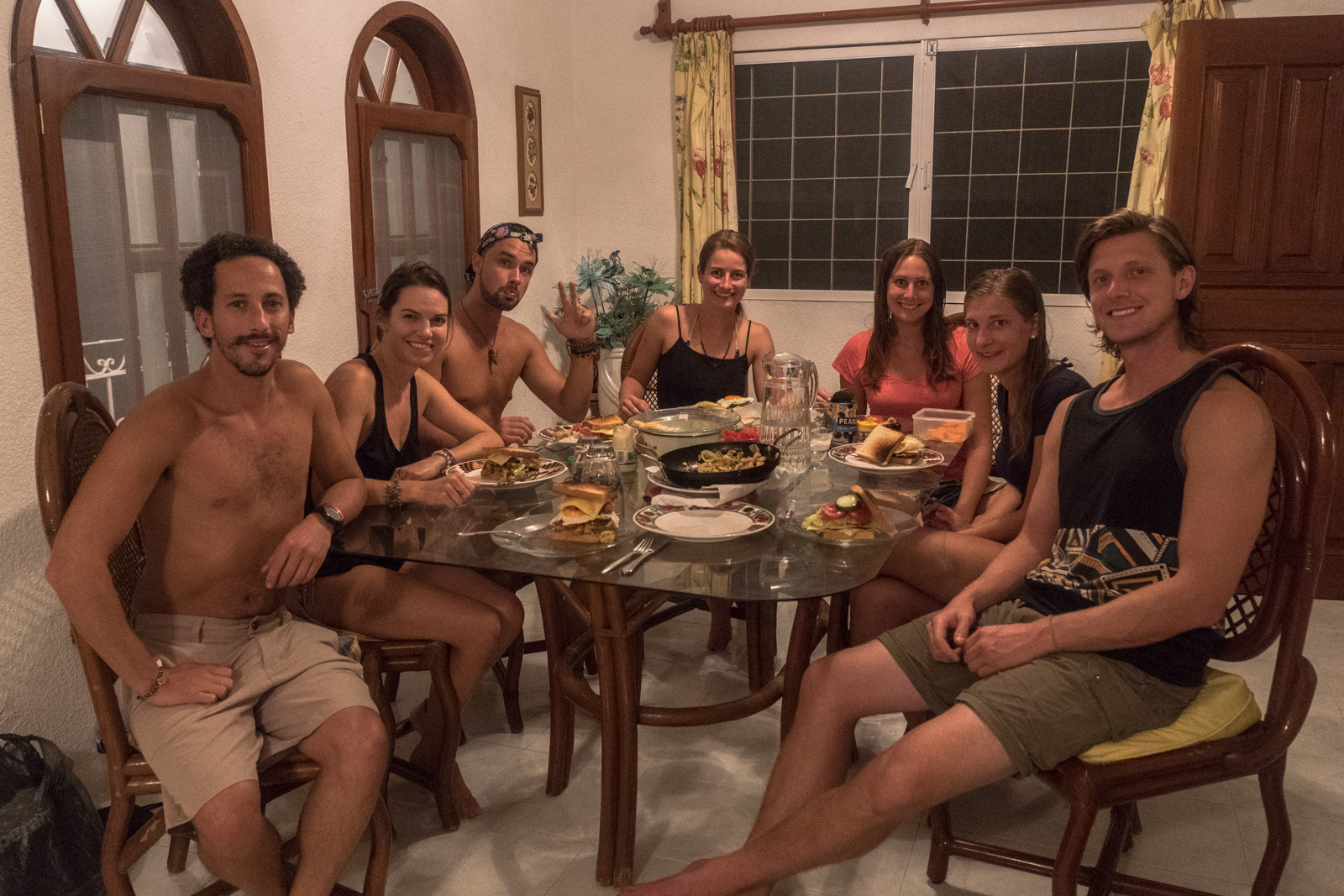 From Holbox, we bounced back to the east coast and spent a day with our good friends Georgia and Dan in Puerto Morelos from Colorado. Georgia was one of first (and only) sponsors. She put together a SWEET setup for Justin's camera equipment. We wouldn't have all these beautiful shots without you, Georgia – THANK YOU! From Puerto Morelos, we inched our way closer to our second border crossing, Belize, before stopping in Tulum. Itching to get back into wetsuits and dive some of the world renowned Cenotes, Justin, Mitch, y Antonia scoured the City for the cheapest dive school before winding up at EASY CHANGO. These guys were great, and definitely liked their beer (or wine or whatever they could get their hands on)! Our guide, Jirko, a Czech lad, had several THOUSAND cenote dives under his belt. Adding 3 more to his tally, he lead us through Dos Ojos, Car Wash, and Calavera. Mitch and Antonia loved the dives, but Justin's ear struggled with the constant accents and descents of the underwater caverns clogging on the first dive! He attempted the second dive but couldn't equalize. Annoyed and frustrated Justin will have to return to Mexico in the future for redemption! For the rest of the crew, DAMN THAT WAS GOOD!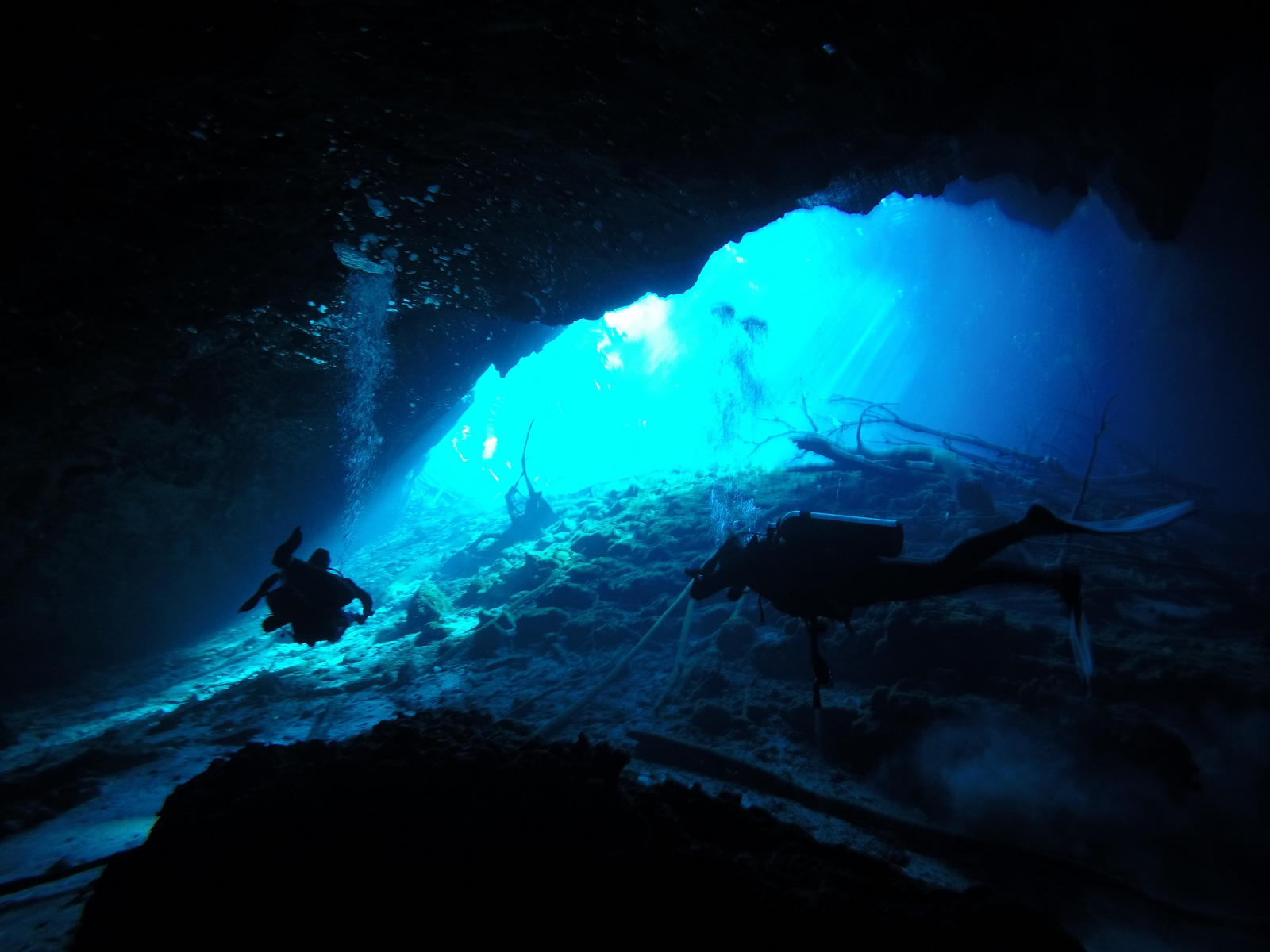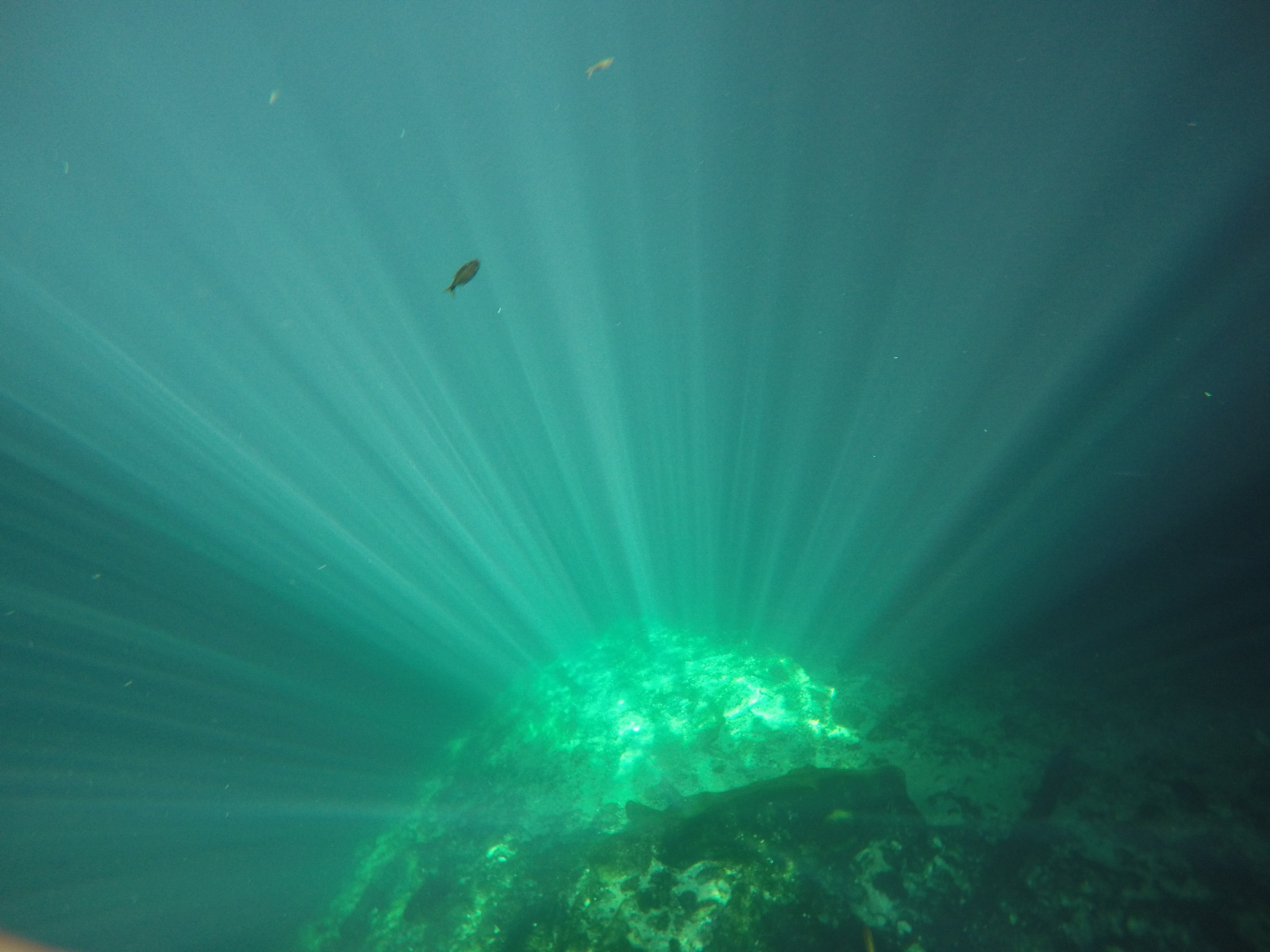 I know at this point all of you are probably thinking, "Are those idiots ever going to get out of Mexico?!"? Probably not, WAY too much cool shit to do here. From Tulum Gabe, Mitch, and Justin took the "adventure route" and headed towards a little town called Punta Allen. After MULTIPLE conversations with the locals in Tulum, we thought we were in for it! Pot holes, wash board, washed out sections, drug cartels, you name it! Well it turned out to be just fine…This my friends, is why you need to ask at least 5 people for advice while traveling (in Mexico). We had a blast cruising the beach road, Gabe even plopped the F800 onto the beach itself for a tour! The only issue came when he tried to get it back up to the road. He gave her a little too much gas and wound up in the palm trees (no animals or people were harmed during the making of this journey…yet)! We found our own private beach to camp on and made a couple cans of Campbell's "queso" soup and some ramen noodles for dinner…it was like college all over again!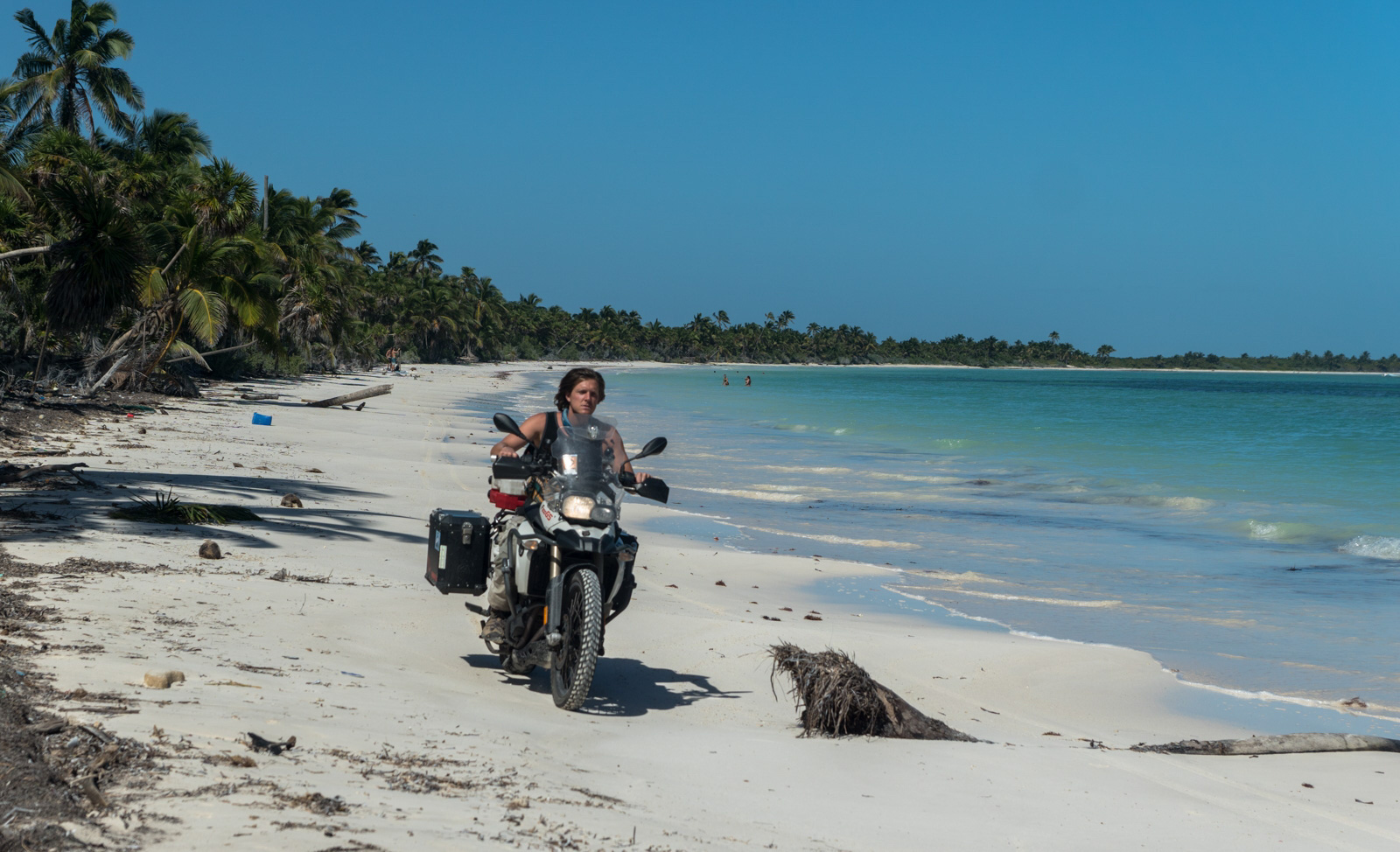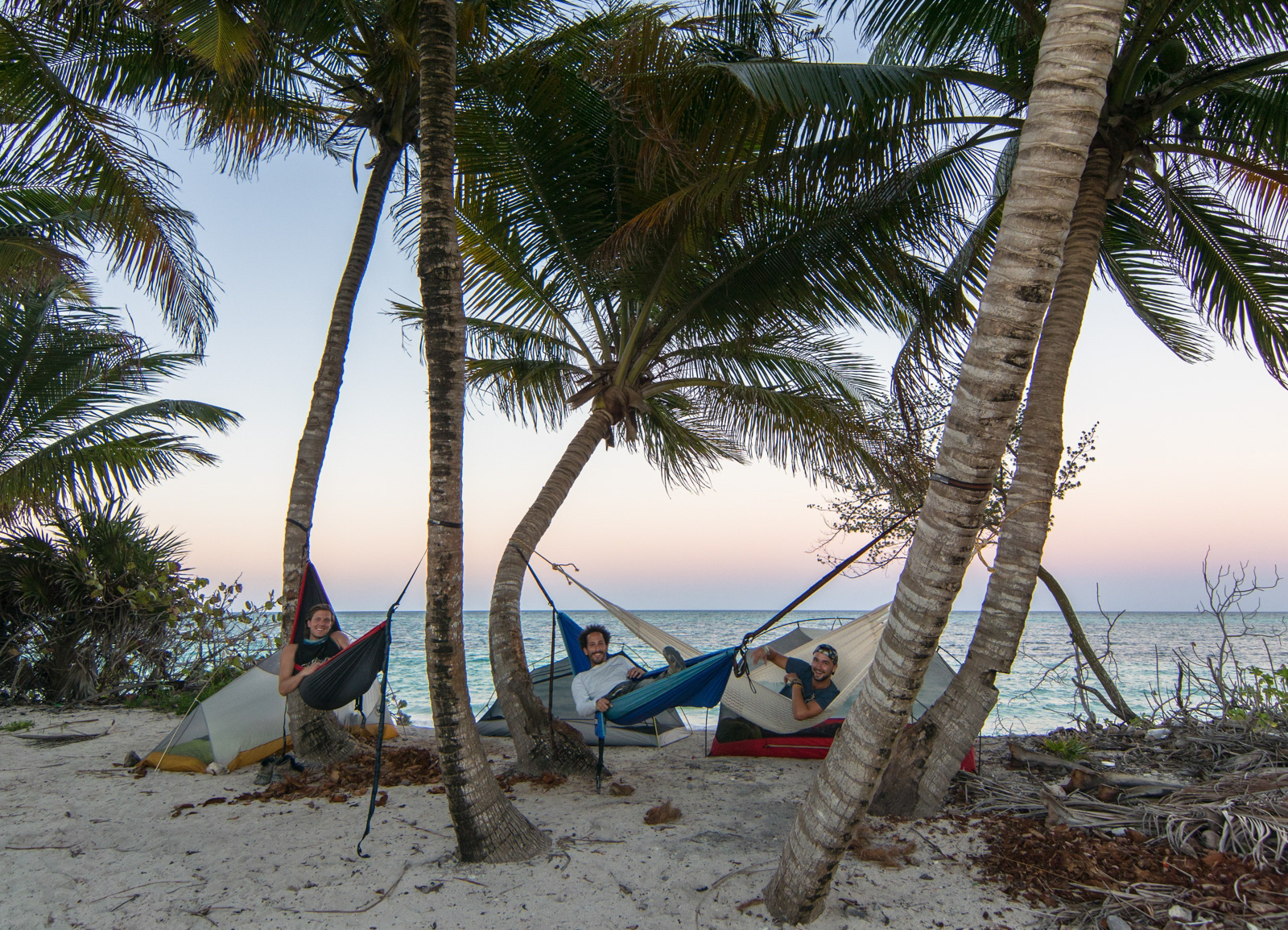 FINALLY, our last stop in Mexico…Bacalar! If this place wasn't heaven on earth then we must be lost…Bacalar is a small town about 30 miles from the Mexico/Belize border. The town itself is nothing to write home about, but the lagoon…man the lagoon! They call it "La Laguna de Los 7 Colores". For all you non-native speakers out there, that roughly translates to "The Lagoon with 7 colors". We called bullshit before actually getting out onto the lake ourselves – "Yep, there's definitely 7 colors out here". The people we met and the time we had will not soon be forgotten.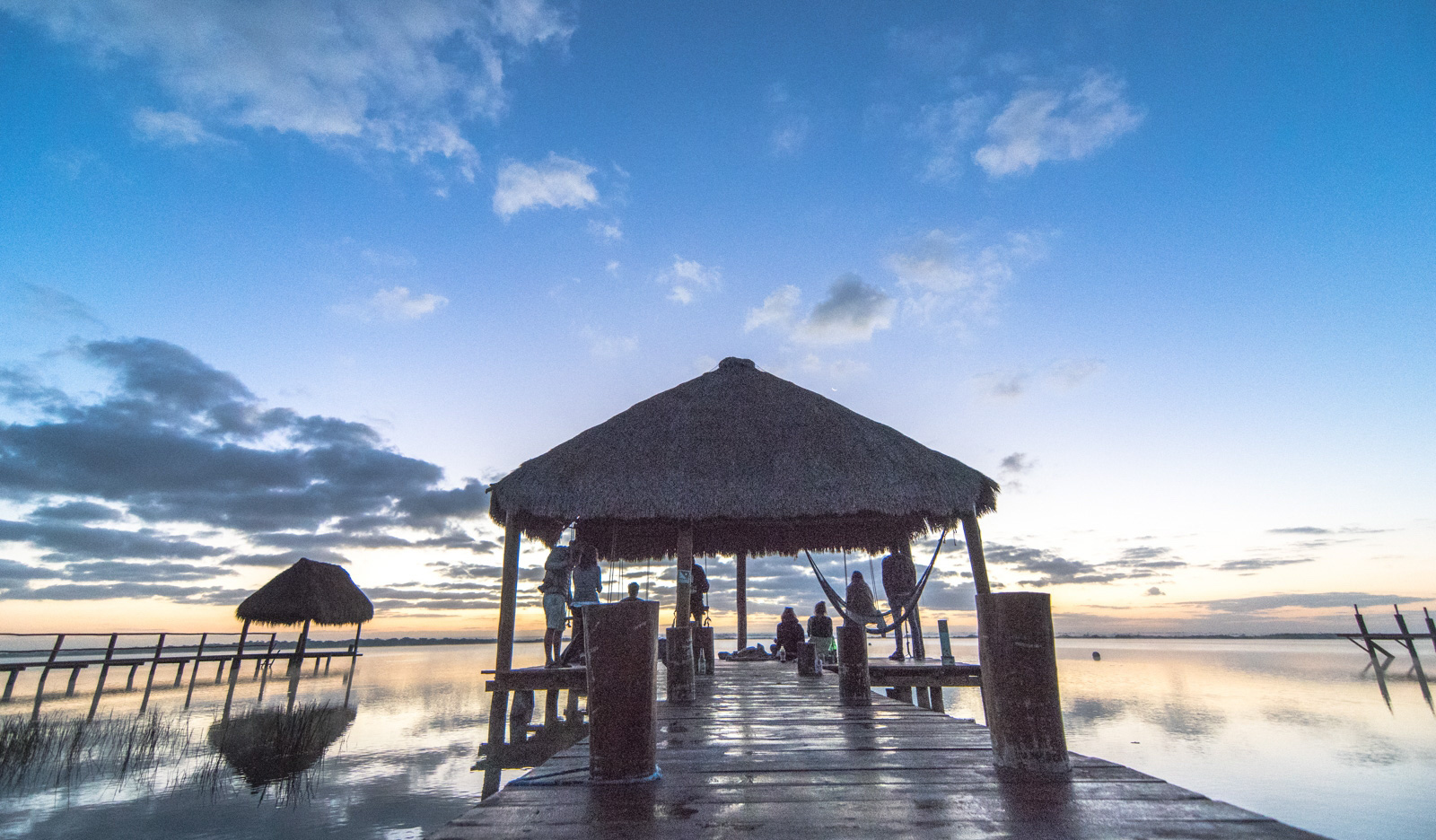 Next stop Belize! We are finally actually leaving Mexico.
  
































  
































  
































  
































  
































  
































  
































  
































  
































  
































  
































  
































  
































  
































  
































  
































  




























---