Dripping in sweat and choking on semi-truck diesel fumes we unstrapped our bikes from the ferry and tried to exit, only to be blocked by a caravan of vehicles. Weaving our way in and out we finally disembarked out of the belly of the beast and into fresh air…directly into Mazatlán traffic. There were cars and people everywhere. Something we had seldom seen in the past month exploring Baja. While stopped for gas, a French Canadian on a shiny F800GS approached us, "Yo! You should head on over to The Funky Monkey hostel, I've been there 7 weeks. We have a pool, cold beer, and we're located right in the heart of the City!". Talk about a warm welcome to Mainland! We understand we often fuck up directions, but a private escort? We've really become high class citizens!
Off we went, back into traffic separating just as quickly as we met. La Tortuga's turtle crawl was no match for the white night. Knowing how to get to the hostel Justin headed directly there only to find Mitch, Simone, and Gabe already in the confines of the gated parking lot. "Open the gate you fools", Justin shouted. The guys had successfully arrived in Mazatlán and Mainland Mexico!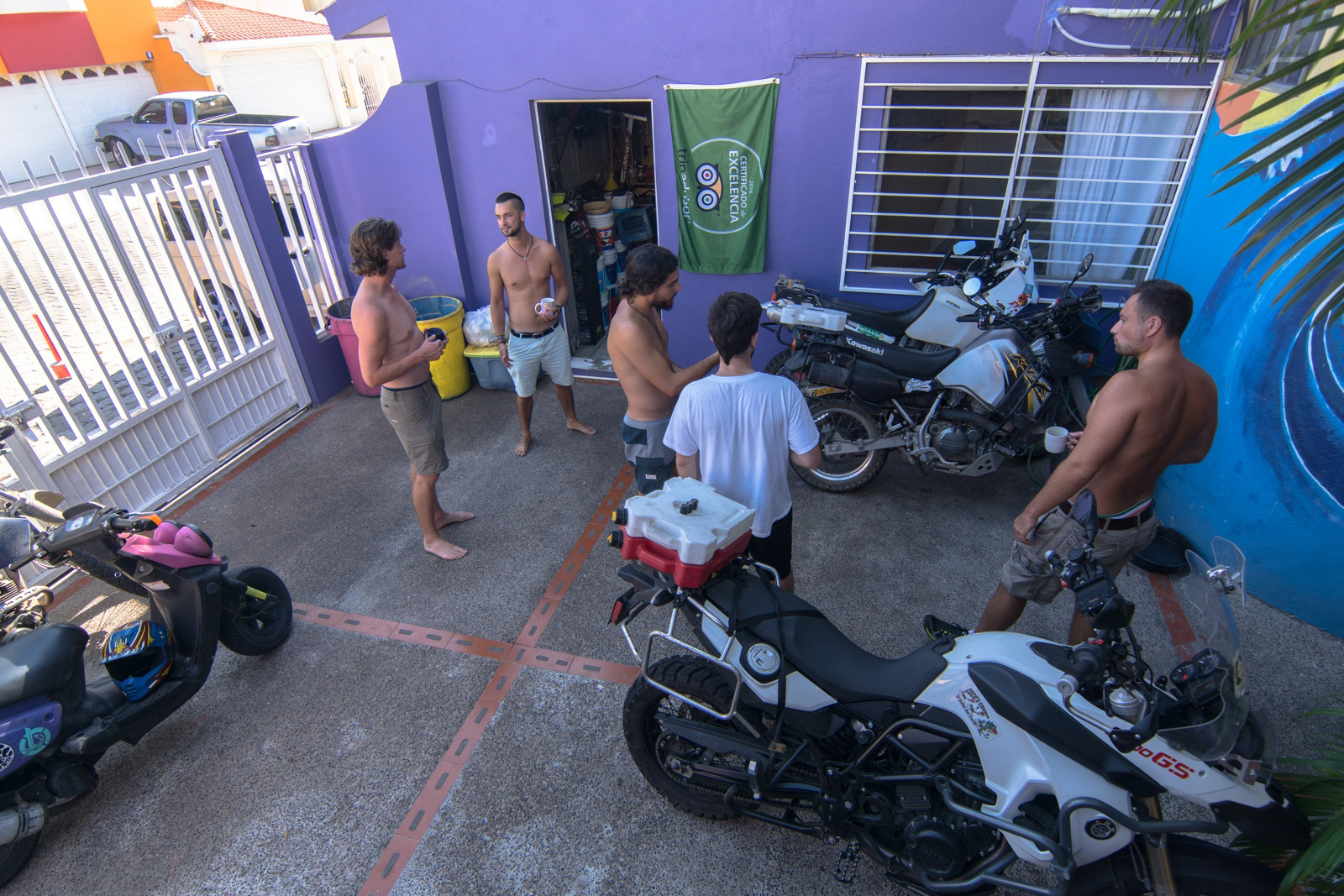 Our time spent in Mazatlán was short but welcoming and really got us into the backpacker spirit. After camping in isolation for the past month it was nice to sleep in a bed, meet others from around the world, and enjoy the backyard pool and rooftop deck for sunsets (a mandatory ritual). The hostel was incredibly maintained with awesome staff. The owner Salem, who looked like the Dude from Big Libowski, took the time to make us feel welcomed and showed us around Mazatlán. Heck, the hostel even had its own resident mechanic. From the moment we pulled through the gates Zak, a burly SOB from Eastern Europe, was constantly inspecting our bikes for problems. As we've previously discussed, Mitch was having some issues with his clutch and it was often difficult to get into first gear. After sitting on the bike for .0001 seconds, Zak, a mechanic by trade, discovered part of the issue…a bracket on the skid plate was blocking the shift lever from fully engaging! He fixed the issue as quickly as he had discovered it, El Tractor was back!! Almost…
It was a hard place to leave, we had only been there 3 nights but the hostel had a VERY strong sense of community. We instantly walked into family and settled in nicely. THANK YOU SO MUCH FOR THE HOSPITALITY! It was time to make moves to Sayulita, a beautiful beach community about a four-hour drive south…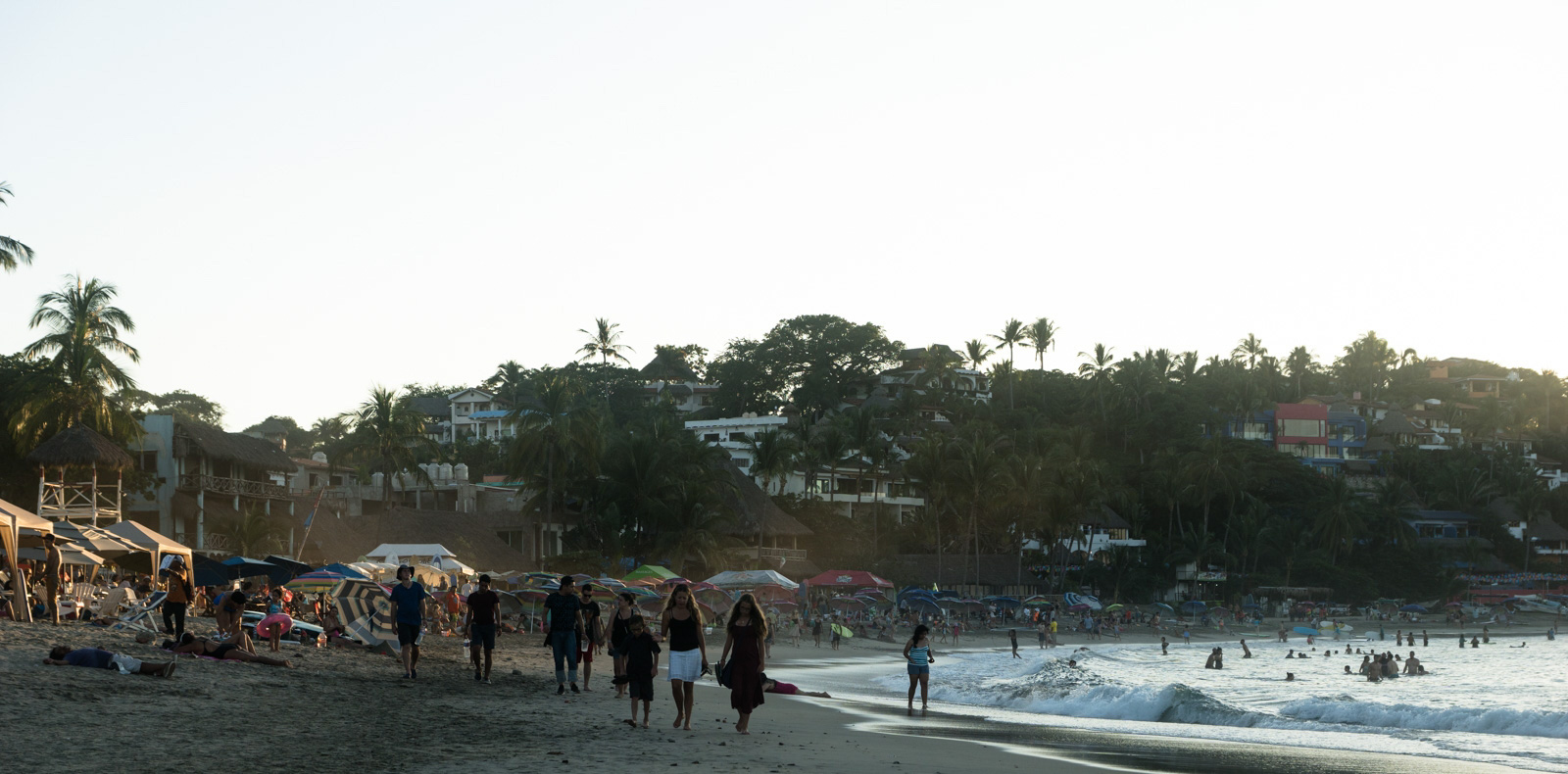 What an amazing town! Our hostel sat just 2 blocks from the beach and we had everything we needed within a 30 second walk…and by everything we mean surf, beer, & tacos. I'm sure none of you will be surprised to learned that the beer is cheaper than water. At the local Oxxo you could purchase 10 beers for 80 pesos (approx…$4)…God bless you Mexico!

The best part about Sayulita was the people (it's always about the people).  There was Eddie and Benji from Vancouver…"yah you betcha" there's more Canadians…they were also traveling to South America on moto. There was Kyle from Australia who was, again, traveling to South America on moto. Even the well-groomed, French Canadian, Gabe broke his stint in Mazatlán to come for a visit. As we picked up 4 new riders it was time to say goodbye to our 3-week travel companion, Simone. He had to be in Costa Rica for Christmas and at the rate we were traveling, we'd be lucky to be in Mexico City at that point. Then there was the non-motorcycle traveling backpackers. Ali, the 25 y/o San Diego kid, who was constantly getting yelled at by his mother via telephone because he refused to tell her his location. Krista and Molly, who were on a Yoga retreat, put out the much-welcomed hippy vibe. Autumn, the free spirit, and the Argentinian girls, Camila y Luz. We spent our days surfing, paddleboarding, hiking, cooking, bar hopping, or hammock lounging. Pretty much heaven.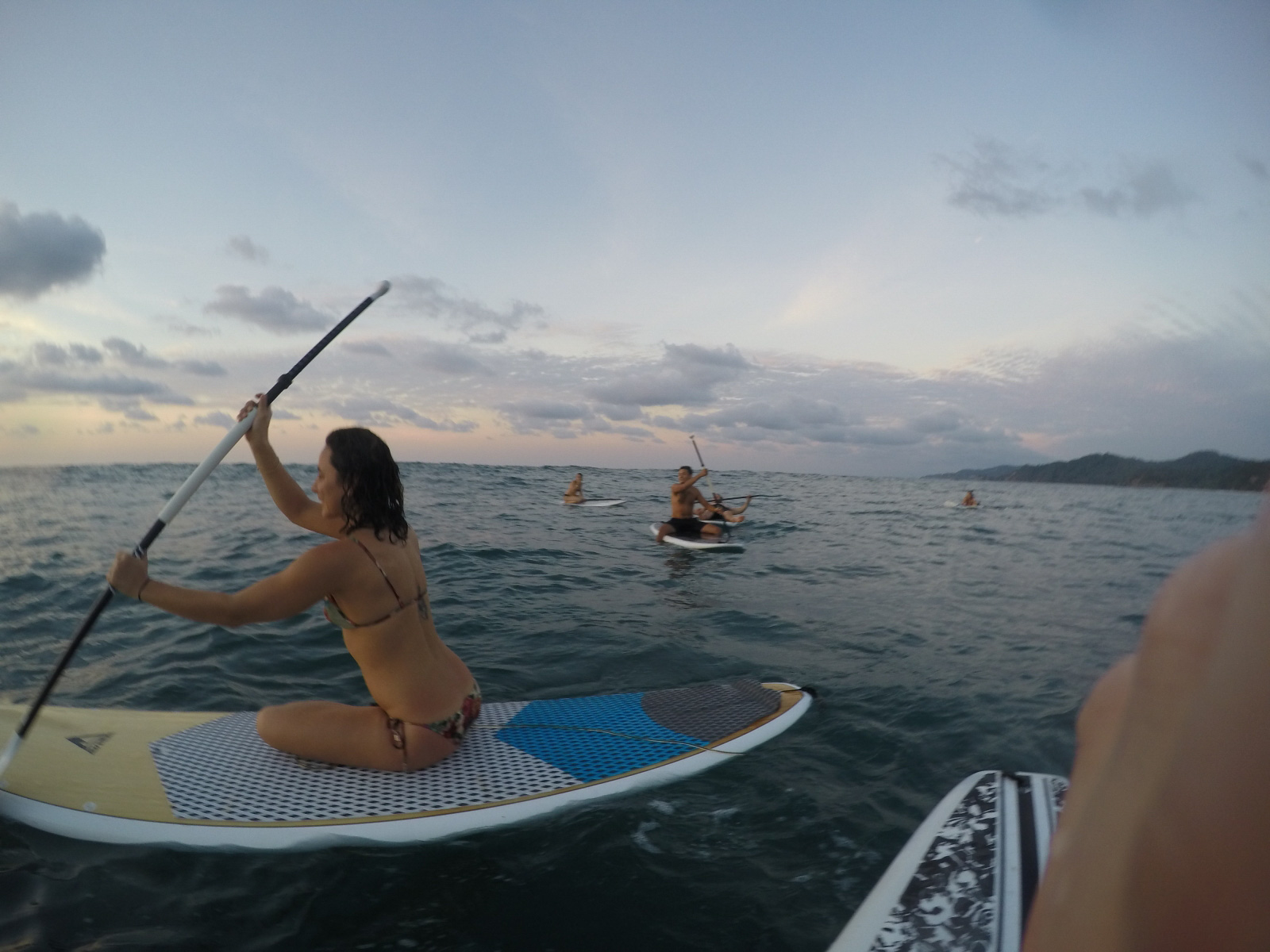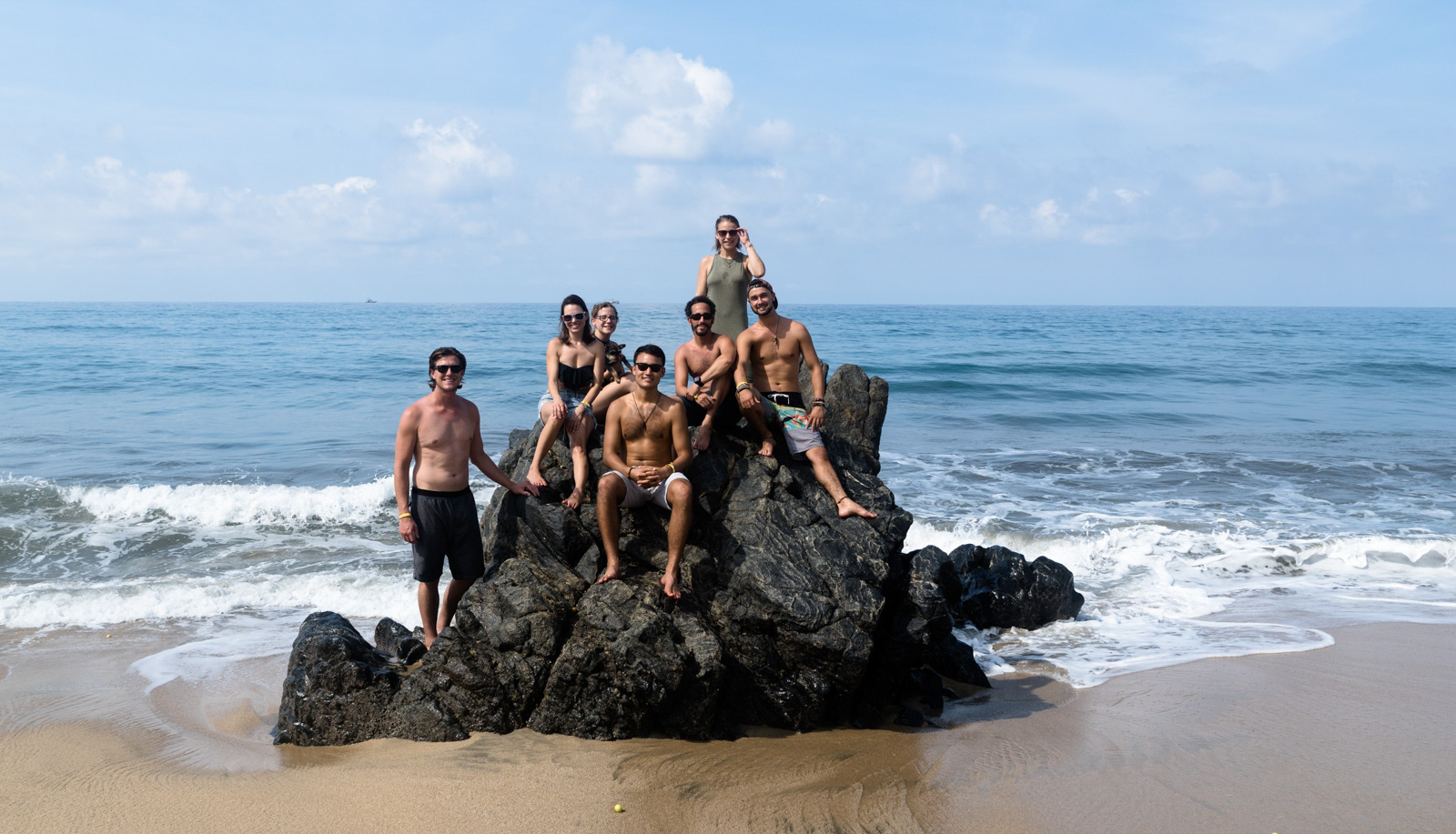 For Thanksgiving, the Team, which consisted of Justin, Mitch, Ali, Gabe, and Autumn, decided to hike out to the "secret beach" for some good ol fashioned camping. Throughout the morning, we gathered supplies and organized the gear. Armed with 6 liters of beer, 1 kilo of chorizo, vegetables, and rice we were ready to celebrate Thanksgiving, Mexican style! Arriving at the beach mid-afternoon we spent our time swimming, lounging, and even trying to use our mattress pads as surf boards! We feasted in the evening and made the WORLDS LARGEST campfire. No doubt it could have been seen from the Moon! All was right in the world…well until we were rudely interrupted at 6:30 AM.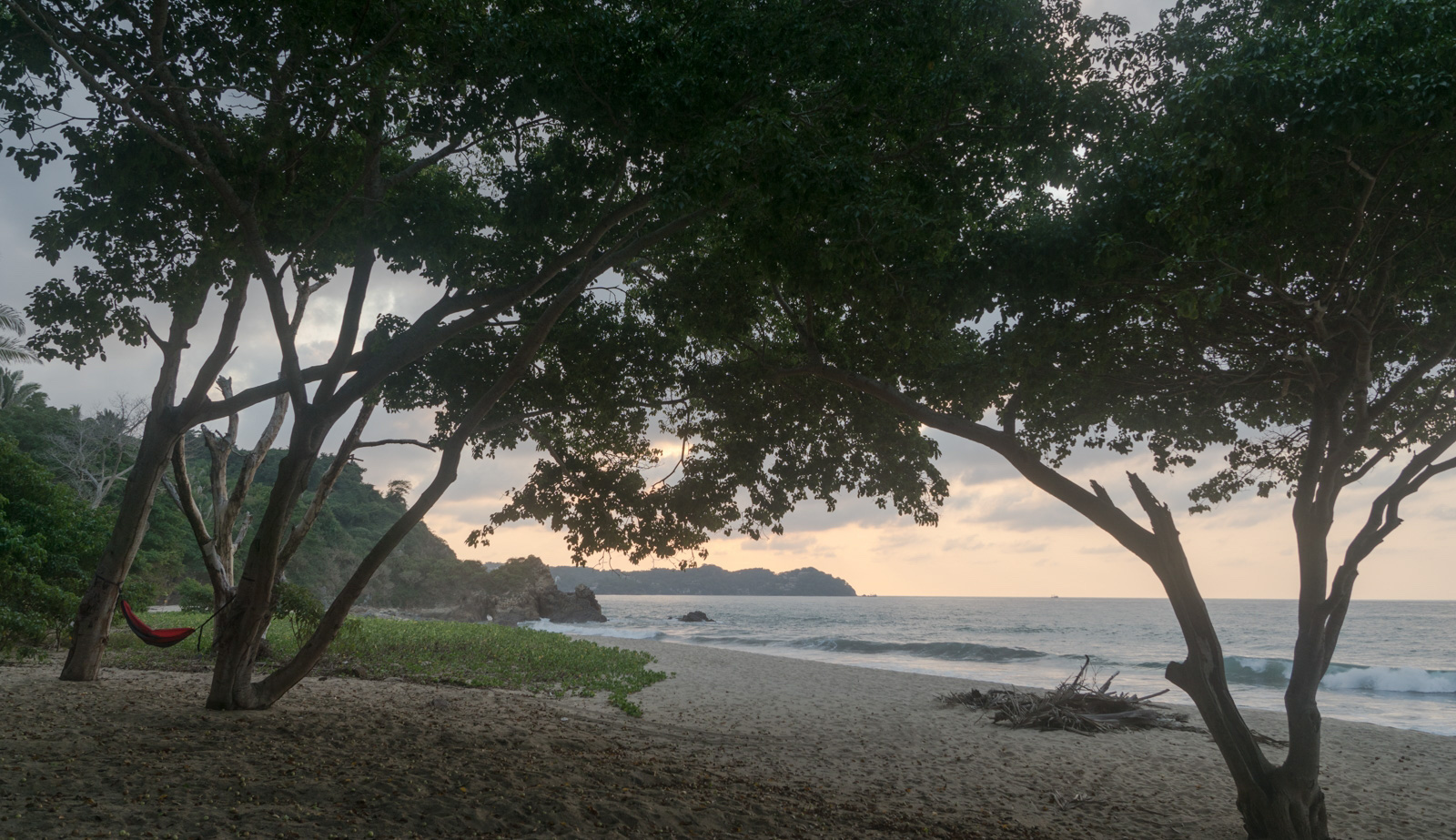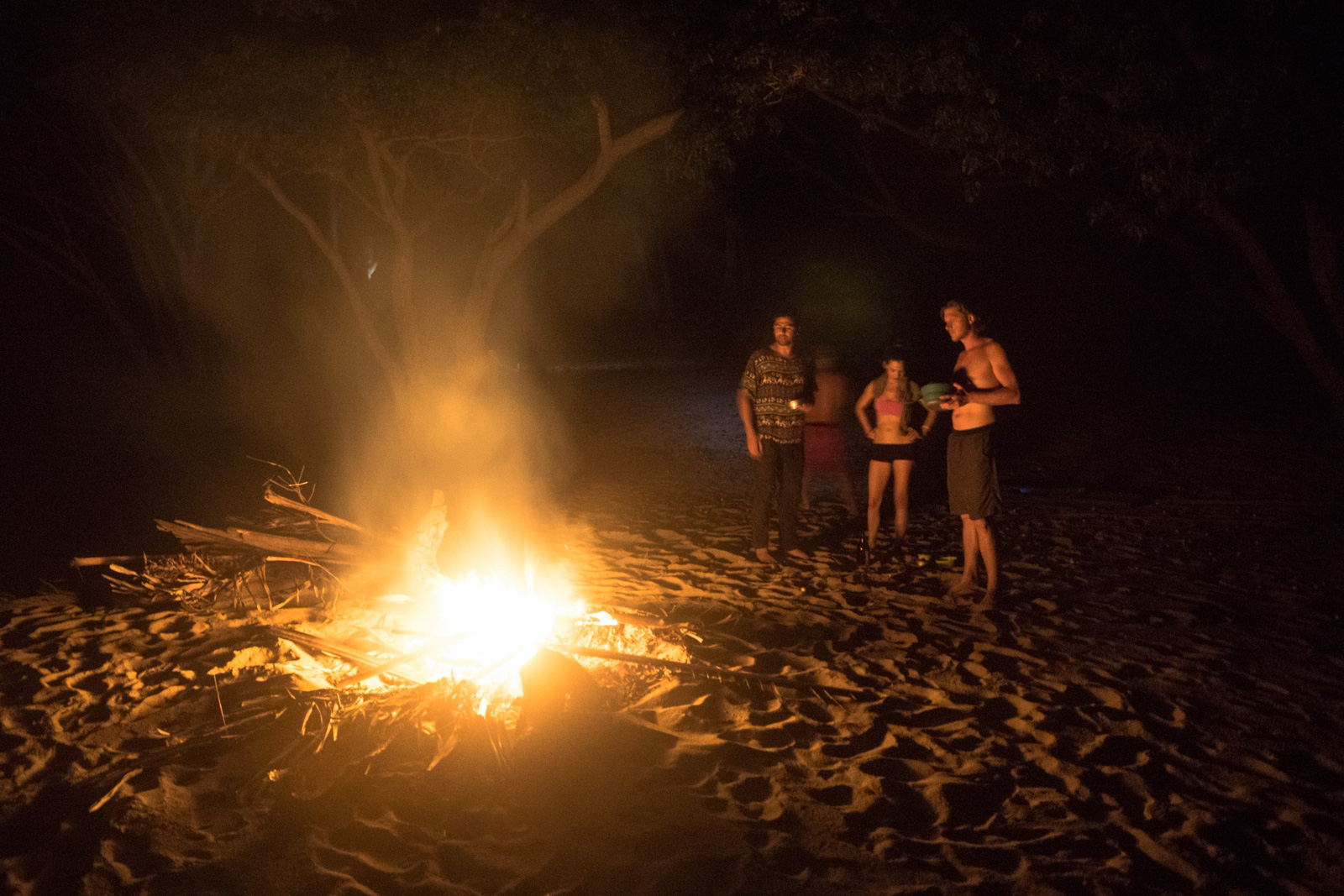 We were approached by a local man, who undoubtedly made his rounds to this beach daily to see if he could extract pesos from unsuspecting Gringos. He was pushing really hard to get 100 pesos/person.  Although it was early, Justin's wits were firmly intact "Is this guy out of mind? Does he really think this is going to work?". Justin quickly told the man to take a "hike" exclaiming that there was no way in hell he was paying that bastard 8 tacos worth (we've become adept at converting pesos to tacos) to camp on a beach that we knew we had every right to camp on for free! After holding strong, we packed up our home away from home and high tailed out of there laughing and joking.
Leaving Sayulita was incredibly difficult. The welcoming sense of community we have experienced thus far has been unfathomable. When thinking of Mexico, people (especially in the US) get this perception that its full of drugs, violence, and other dangers (chupacabras). However, we've experienced just the opposite…THANK YOU SAYULITA! WE ARE GRATEFUL FOR YOU ALL!
  
































  
































  
































  
































  
































  
































  
































  
































  
































  
































  
































  
































  
































  
































  
































  
































  
































  
































  
































  
































  




























---