Our original plan was to stay for two nights in Parque Nacional San Pedro Martir, but after freezing our nipples off and barely getting any sleep we knew where we needed to be…The Sea of Cortez! We had hoped to visit the observatory while at the Park but we could never quite figure out the logistics, kind of a shit show.  Anyway, we decided to stay at Don Eddy's again before making the long trek across the desert from the Pacific to the Sea of Cortez aiming for Bahia de Los Angeles. The first half of the ride was boring and desolate, while the second half (once dropping into Chipala) was beautiful with huge cactus dominating the landscape backed by the silhouette of mountains.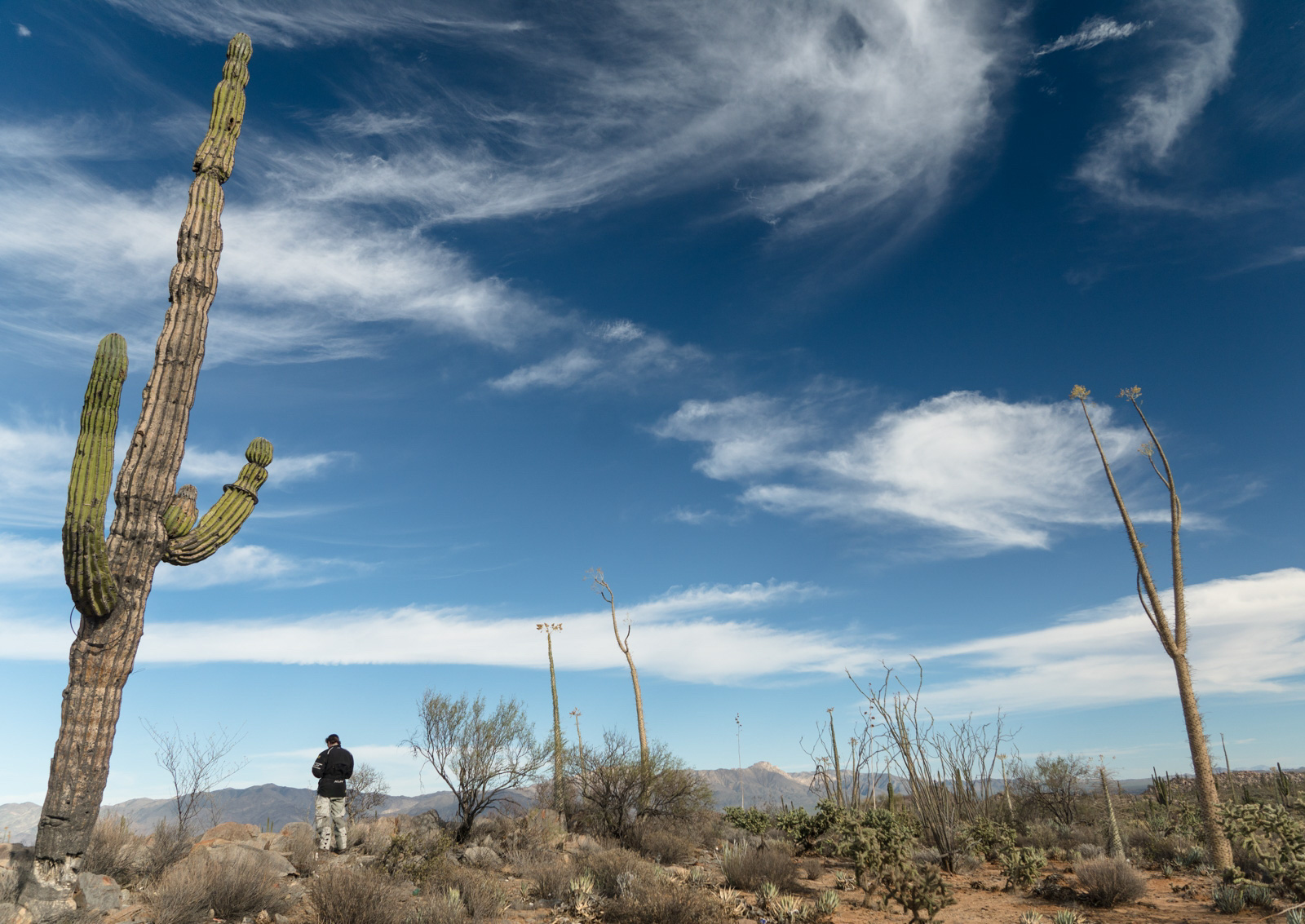 As the sun began to set, we raced closer and closer towards the Sea of Cortez. With each turn, we dropped in altitude and could see more and more of the sea.  Making the final descent into the Sea of Cortez, we had finally arrived!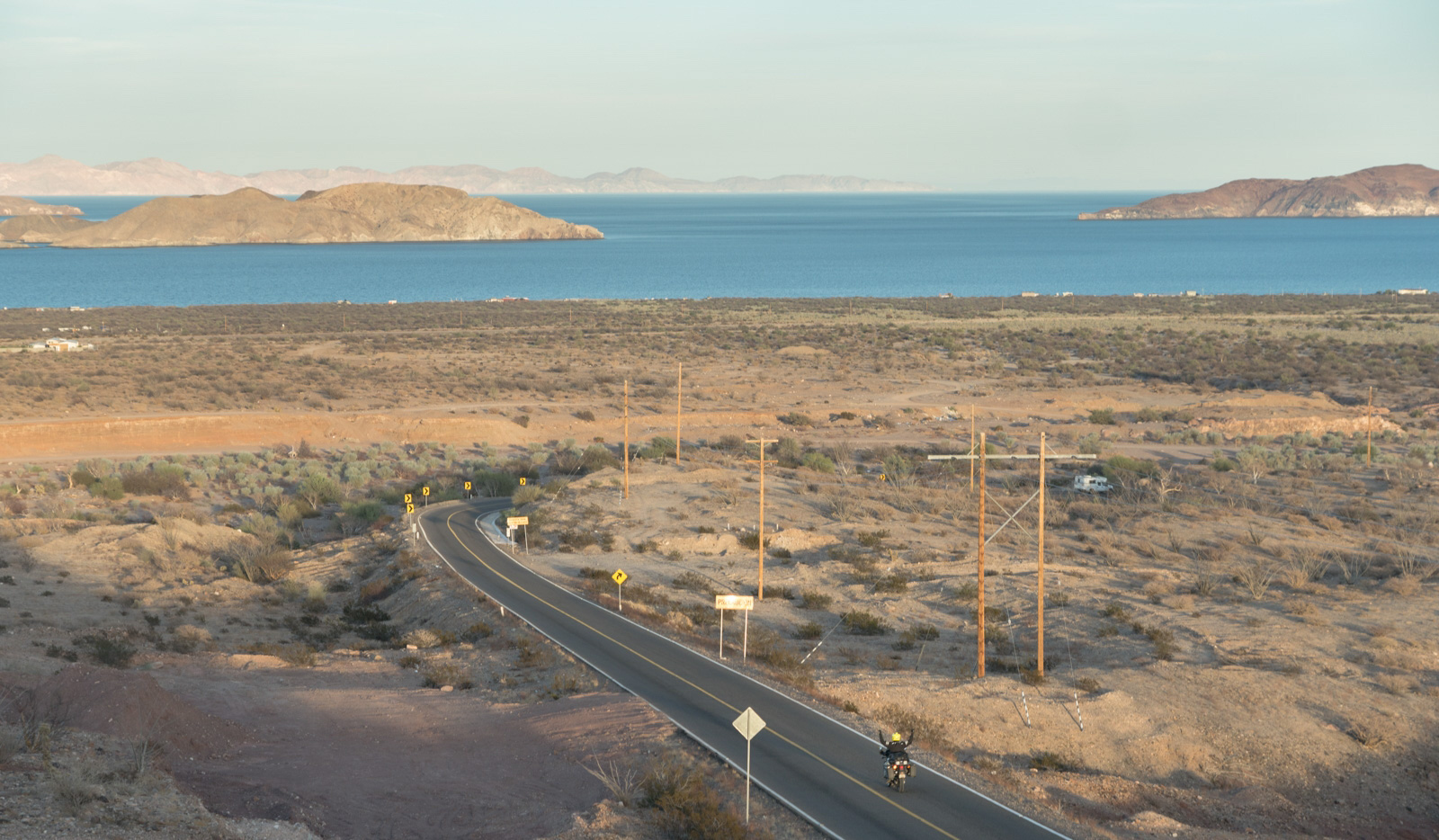 We woke the following morning in a familiar camp spot, Daggets, to our first official beach sunrise of the trip! We enjoyed a nice breakfast and headed into town to scout out the possibility of seeing whale sharks. This area is notoriously known for having over 100 whale sharks in the bay at peak times. Stopping at Guillermo's, on the beach, we immediately met Jeff and Jessie, who were camping there for a few days. They immediately offered us cold beers. How could we say no to that?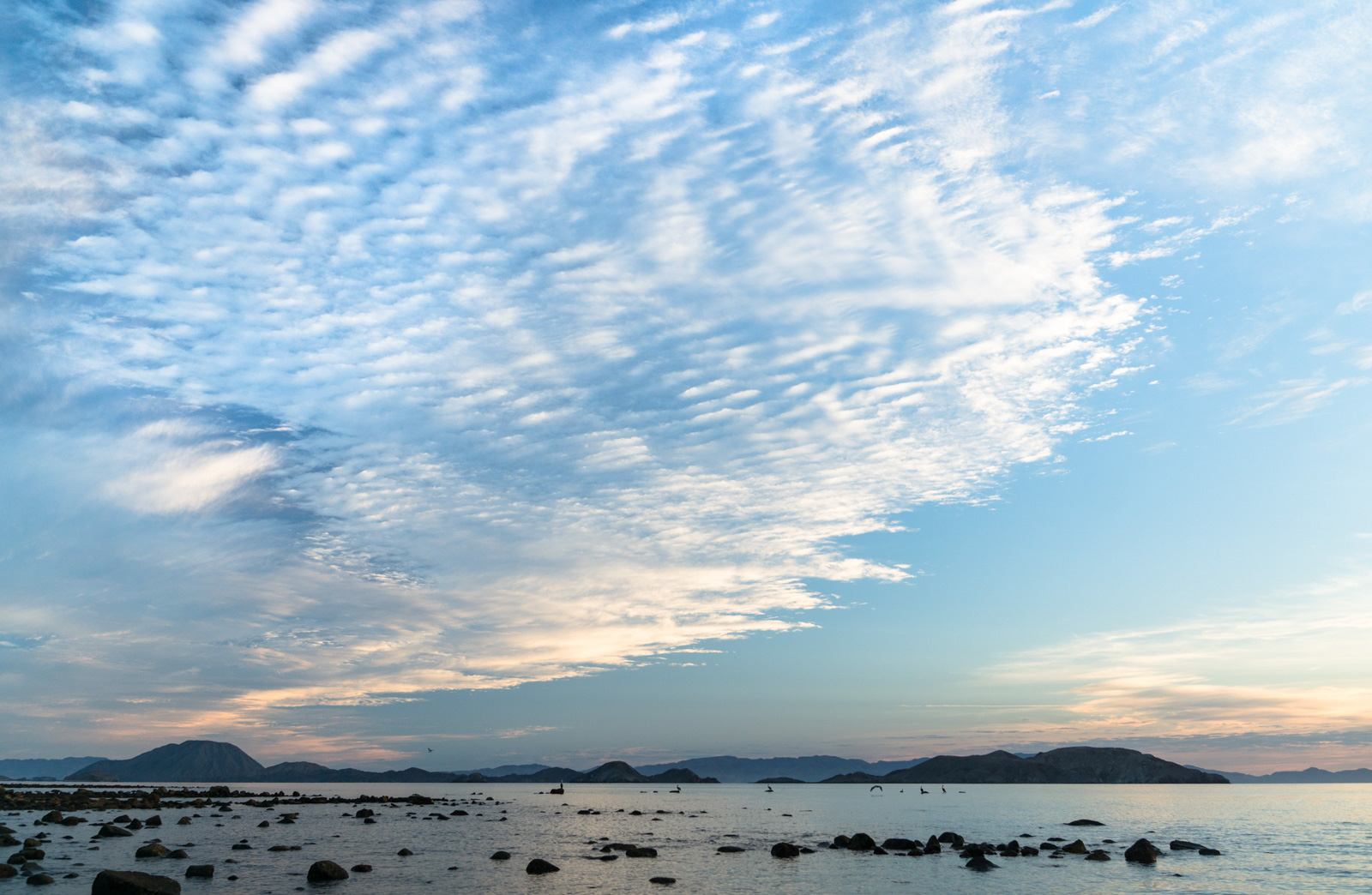 Jeff and Jessie were river guides from Idaho. Jeff had been coming to Baja since the mid 80s, while Jessie was a Baja virgin. At some point over the past few years Jeff had come up with the hair-brained idea of rowing the entire length of the Sea of Cortez starting in San Felipe and ending in Los Barilles! Are you kidding me?! They were planning to ROW over 800 miles! What a bunch of idiots. Their boat was packed with food, 100 liters of water, and muchas CERVAZAS y TEQUILA.  These guys were an absolute riot!  They expected the whole journey to take approximately 60 days, but a lot was dependent on winds. Along the way they'd sleep in random coves and beaches emerging every other week or so to get more beer. They'd catch fish, trade water for beers or cigarettes, and sail the high seas! They were basically modern day pirates minus a peg leg and parrot.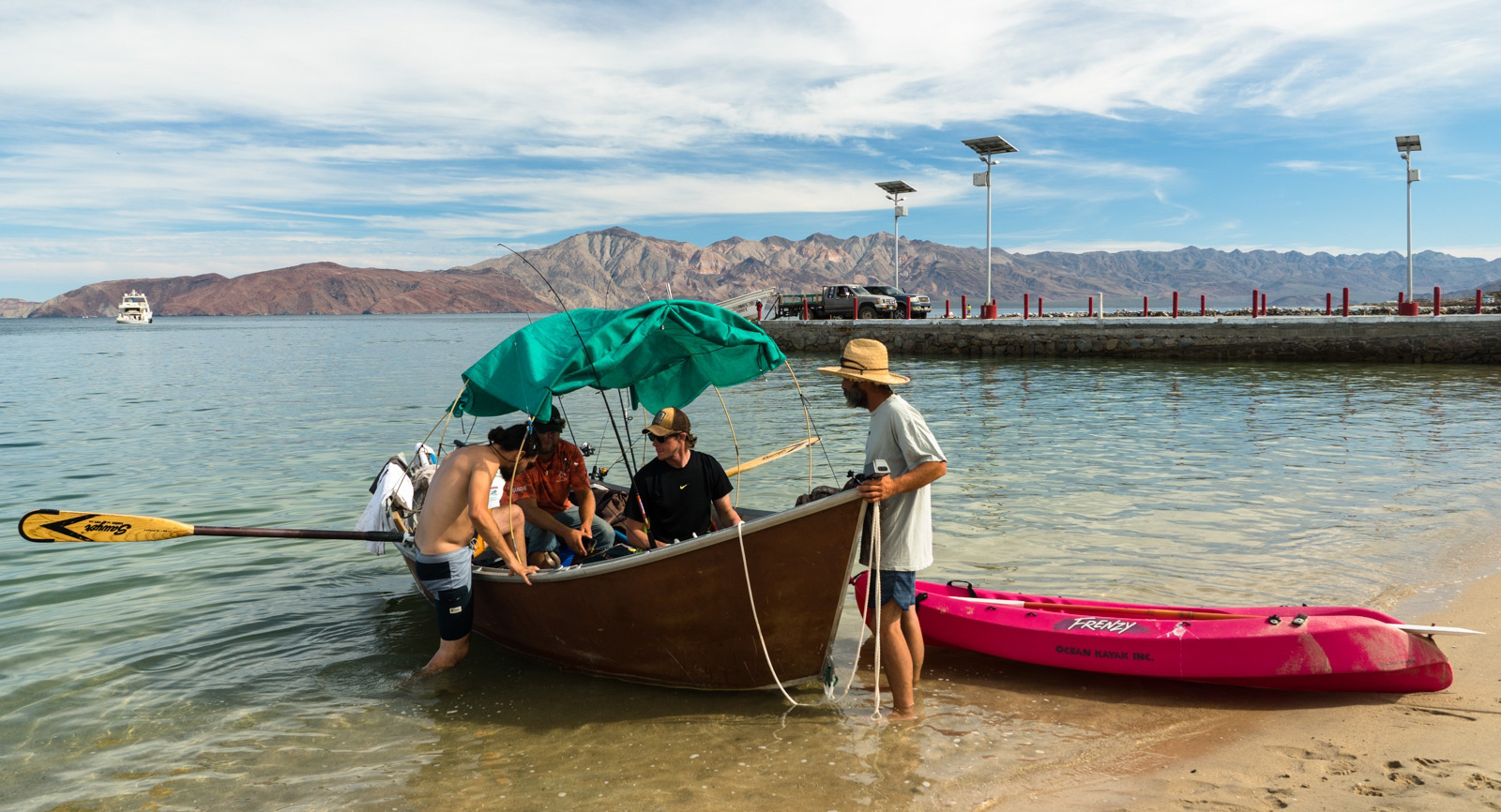 As morning turned into afternoon the beers continued to flow and our group continued to grow. Simone approached us on the beach debating about setting up camp.  He was immediately welcomed with a handshake and a cold Pacifico. Simone, an Italian riding a Suzuki DR650, started his journey in Los Angeles, skirting up to Alaska and back down to Baja. He was on a motorcycle journey to Patagonia as well! As the afternoon wore on Jeff entertained us with wild stories from Baja over the past two decades. The wildest one was the time his sailboat broke loose. Without going into too many details, the Federales found the boat 75 miles from shore and allegedly found a bag of "flour" that was mistaken for some other substance. Anarchy ensued and he wound up paying a couple thousand $$ to a crooked Mexican lawyer to resolve it…Only in Mexico!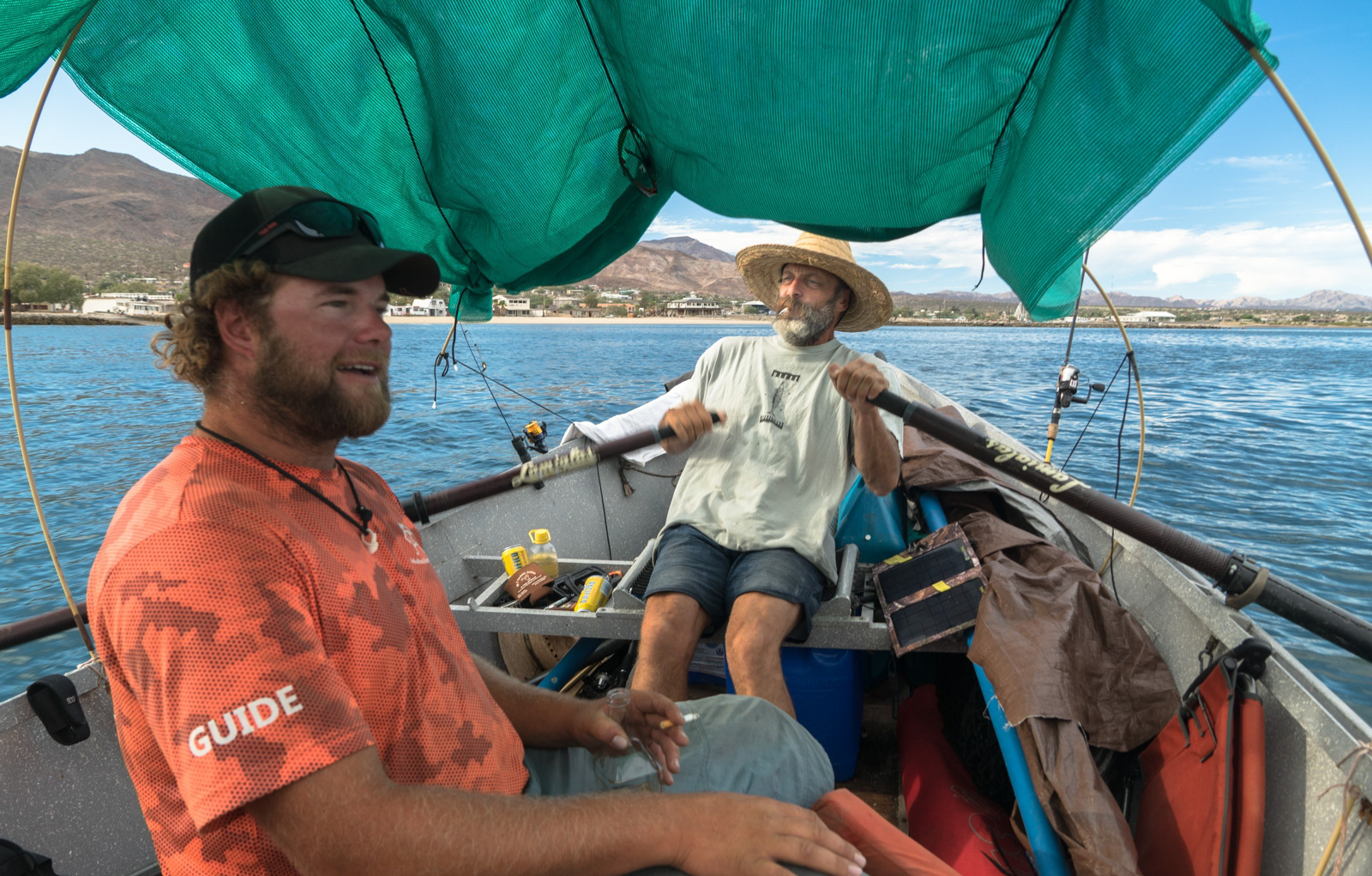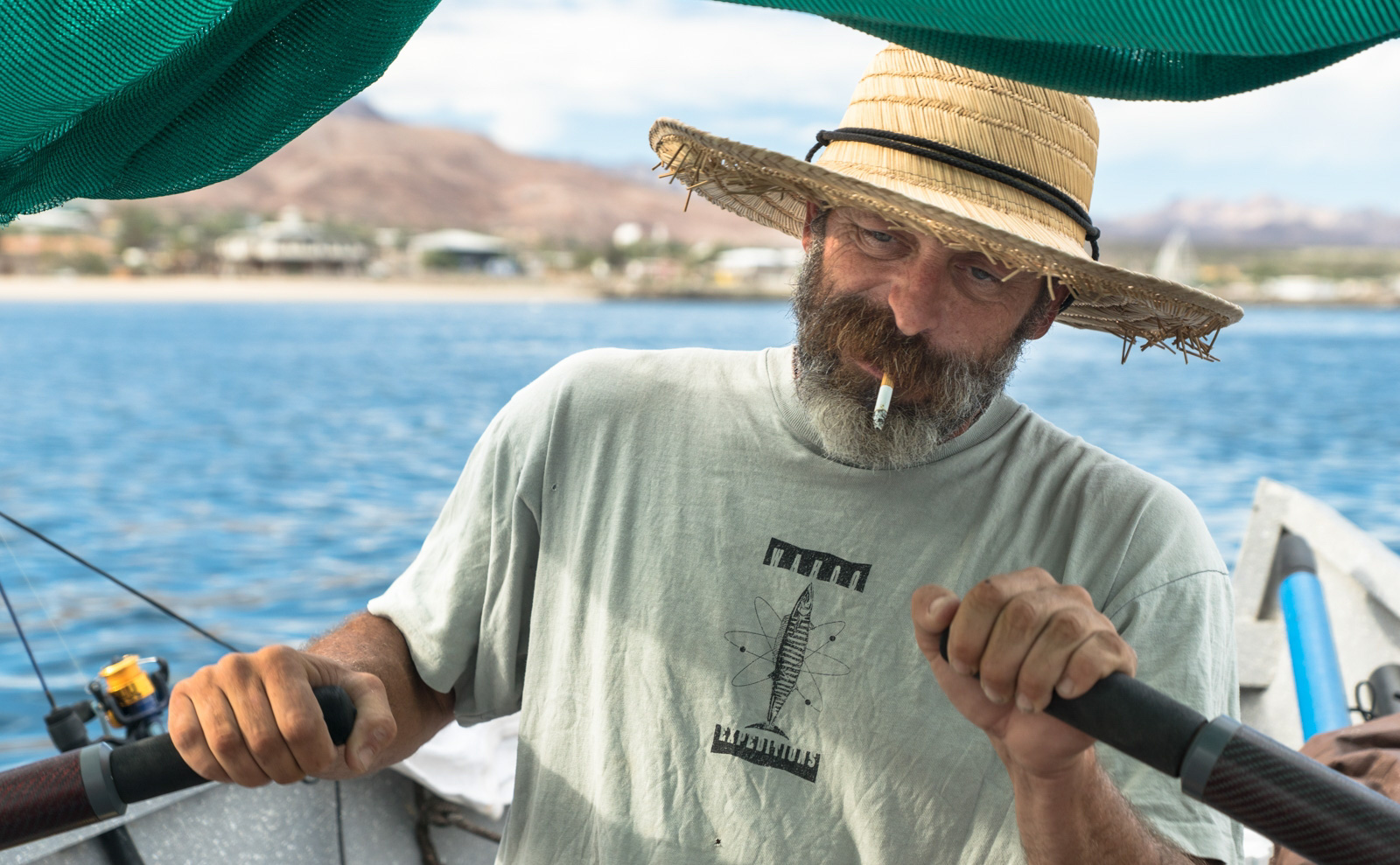 Drinking in the sweltering heat, Mitch finally posed the question we had all been wanting to ask…"When can we take this beast for a row!?" Without an ounce of hesitation Jeff and Jessie began loading the boat with beer, tequila, more beer, and even more tequila! We all climbed in, beer in hand, and began rowing around the bay, four in the boat and one in the kayak, which was the "safety dingy" if shit really hit the fan. Needless to say if shit hit the fan…we were FUCKED! We spent the afternoon rowing around, each taking turns, consuming more alcohol than we should have, and exploring the bay.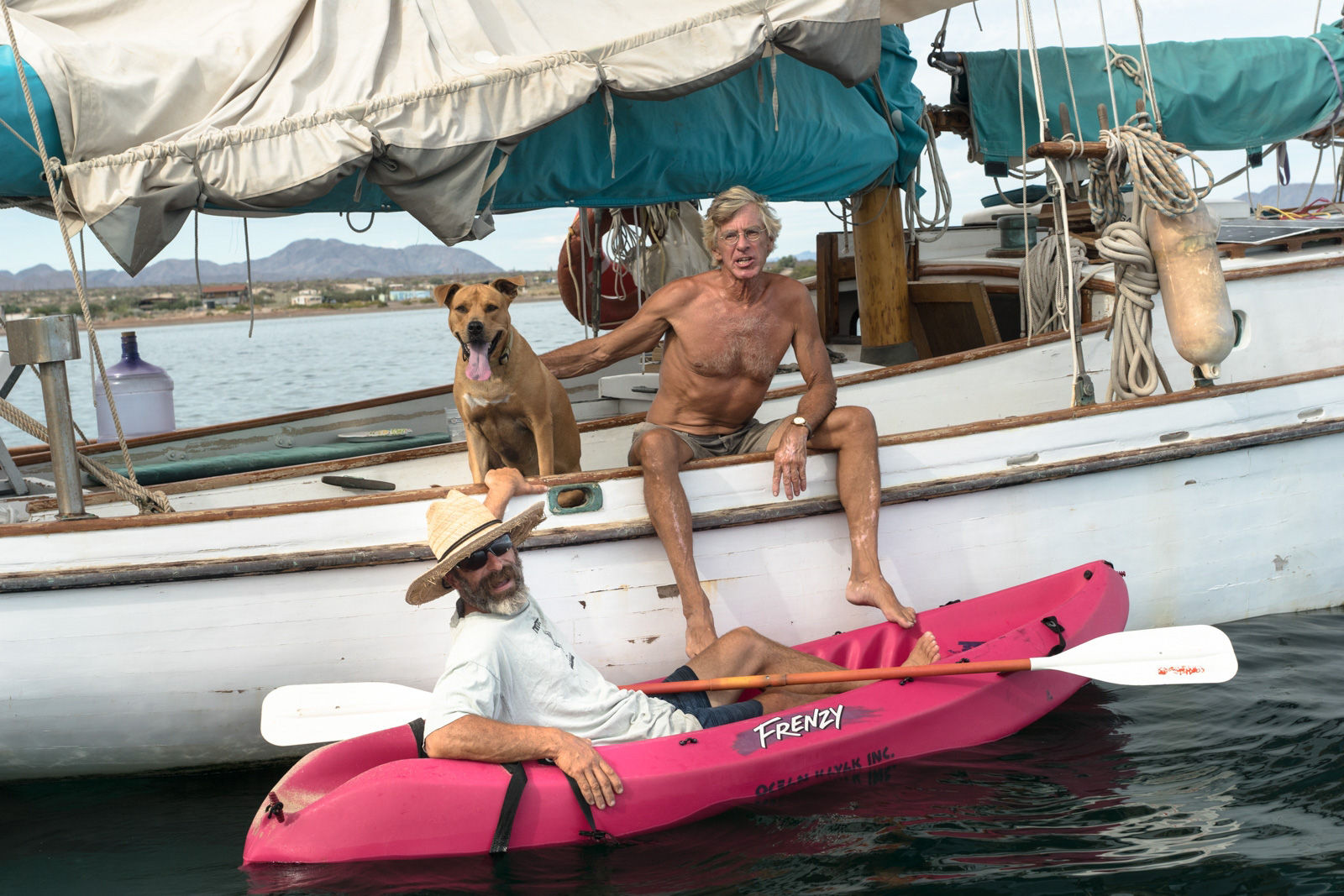 We rowed over to Tim, who had been living on his sailboat with his wife and dog for over 20 years. Meanwhile, Mitch who was out on the "safety dingy" somehow coerced his way on to the 85ft super yacht sitting in the bay. We even got a chance to harness our inner youth and play pirates as we shot cans with BB guns and slingshots. Exhausted from the sun we meandered our way back to shore in a drunken stooper. Along the way we spotted sea lions and other fish, but the icing on the cake was that brief moment when out of the corner of Justin's eye he spotted the holy grail…"guys a whale shark!!" That big black body speckled with white spots. It swam directly under the boat and was gone just as quickly as it was spotted. Sadly, there was no time to jump into the water with the gentle giant. We'd have to wait for another chance!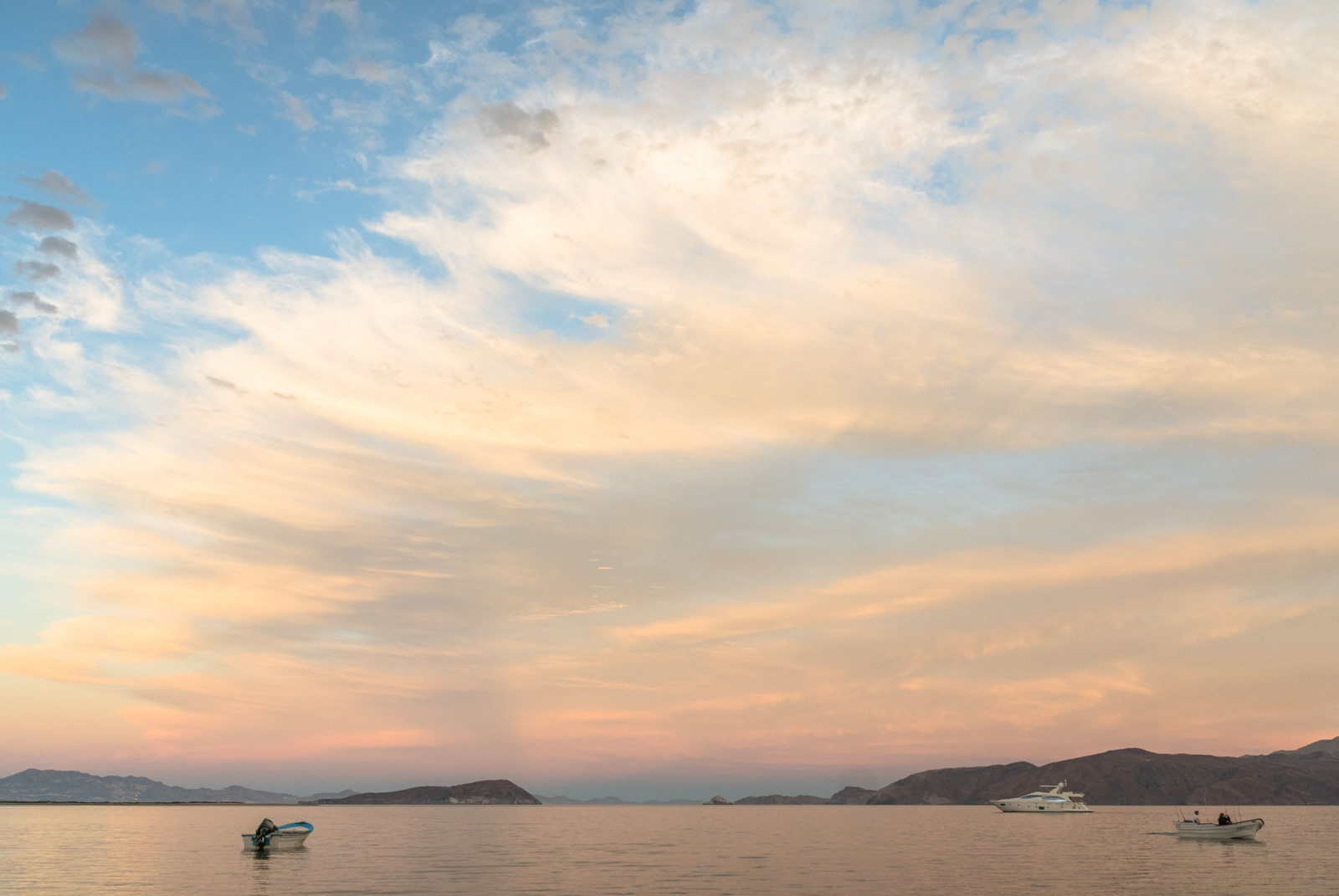 The crew reached the shores slightly before sunset crawling to their respective campsites and dozing off. What an incredible journey and it is just the beginning! We couldn't even imagine what lay in store after today as we would continue down the Sea of Cortez in search of hidden beaches and coves. Little would we know the intense conditions we'd have to endure to reach these spots over the next few days.
  
































  
































  
































  
































  
































  
































  
































  
































  
































  
































  
































  
































  
































  
































  
































  
































  
































  
































  
































  




























---